Everything that an Abstractor Need to Know About Title Insurance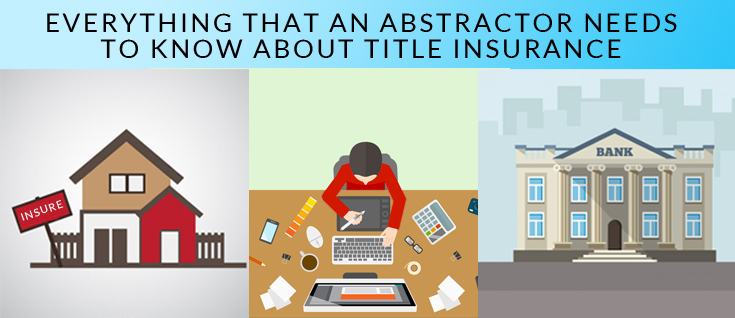 Title Insurance
Title insurance is a type of insurance policy that provides property owners and lenders with vital protection against the losses related to the property title such as forgery, liens, unpaid taxes or debts and other possible title defects. If there is any title issue, it is not possible to have a clear ownership of the property. Title insurance will get the insurance coverage against the losses up to the maximum specified on the policy.
Types of Title Insurance
There are mainly two types of title insurance policies:
Owner Policy: Owner's title insurance policy provides protection to the property owners against the title related losses specified in the insurance policy. Owner's title insurance policy protects the maximum value of property at the time you purchase the policy. Title insurance protects your property as long as you own that property.
Lender Policy: Lender's title insurance policy protects the lender from investment losses against the insurance property. It provides insurance coverage for the property only up to the mortgage amount of the property.
Significant Points that an Abstractor Need to Know
During the closing time of property buying process, you have to confront with number of procedures that we are not familiar with. At this stage, a title abstractor can assist you to purchase the property. The presents of a licensed title abstractor facilitates you the closing process of real estate without any title issues. Title abstractor should do title search and has to submit reports to the person who assigned the job.
Title abstractor will carry out research on the particular property to ensure that the property is free from all forms of issues related with the title or ownership. The main possible title issues include lien, title fraud, forgery, unpaid debt or taxes, encroachment issues, errors in public records, and other title issues that will affect your opportunity to sell, mortgage or lease your property. A title abstractor should aware about the following tasks:
Title abstractor should be familiar with the property laws of the respective countries. Property laws vary from state to state and each state has its own real estate laws and guidelines to follow.
Title abstractor should have the ability to do liens search, deed chain search, mortgage search and current owner search in an effective manner.
Title abstractor should examine the entire public record search such as register of deeds, tax records, judgments, municipal office documents, sewer assessments, etc.
Title abstractor should collect the available information from various sources on the assigned property.
India Data Entry UK is the leading mortgage data entry service provider in India. We provide a wide range of title insurance services and title abstraction services to our clients across UK, Canada and US. Our experienced professionals are able to provide accurate and high quality mortgage data entry services at best available price in the industry.